Copiers Houston, NEC, Seiko, Copystar, HP, Kyocera, Lanier, Konica Minolta, OCE, Okidata, Panasonic, Ricoh, Savin, Sharp, Toshiba, Xerox Service, Sales and Supplies,
Technicopy Inc., Copiers Houston Texas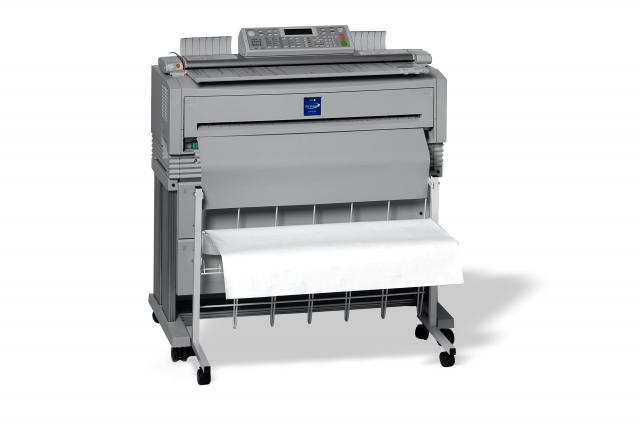 Teriostar LP-1020 Series offers the perfect solution for applications where printing speed and image quality are important.
The Teriostar LP-1020 Series boasts true optical resolutions of 600 dpi and amazing speeds of 3.4 A0-size prints per minutes, coming in two state-of-the-art models, a network printer model, the LP-1020/LP-1020L and a multi-function scanner/copier/printer model, the LP-1020MF/LP-1020L-MF.
Industry Leading Image Quality
SIIT's electro photographic technology delivers true 600 dpi and deep rich densities that translate into precision line, and the ultimate image quality.
Unmatched Productivity
The Teriostar family of printers and copiers boasts speeds 33% faster than other companies' – 6.2 A1-size prints per minute. Using SIIT's proprietary parallel data processing and electro photographic technologies, Teriostar deliver continuous high-speed printing at a fraction of cost of other high-speed LED printers.
Compact Design
With the smallest and most compact footprint in the industry, the Teriostar family saves space and allows it to operate almost anywhere. All controls and paper functions are designed to be done from the front, so there is no requirement to load paper from the back or to use back-of-the printer baskets. Consequently, the Teriostar printer can be used closer to a wall, saving you valuable office space.
Full Network Compatibility and Multiple Interfaces
Interfaces supported include Ethernet (100BASE-TX and 10BASE-T), USB2.0, and Centronics.
Automatic Roll Selection
Choose between two different paper sizes (2 roll drawers are included), or let the Teriostar choose the appropriate paper automatically


Long Print Length
Long prints up to 33 feet (10m)* support applications such as automotive, shipbuilding, civil engineering, bridge building, military and energy/industrial site.
* For LP-1020L-MF and LP-1020L.
Store Up To 99 Continuous Copies
You can store up to 99 continuous copies, or make an additional copy from a previous scanned drawing. You can enlarge, reduce, change the density, or the number of your copies.
Easy-to-use Large Display
A large quality display provides easy navigation and operation of the entire copier/printer. Store up to 10 user-settings in memory.
Digital Sorting
This allows you to copy different size drawings and automatically print them out the same size, or collate multiple copies
Integrated Color Scanner*
With the Teriostar LP-1020's integrated 600 dpi color scanner, redline markups (or any color) can be scanned and set out using the same wide-format LED copier your business uses for printing. 
*Requires Color Scanning Upgrade at an additional charge.
Scan-To-File
Instead of copying, users can scan directly to a TIFF or PDF file for offline use or for archiving drawings.
User-replaceable Process Cartridge
The industry's first easy-to-replace process cartridge in a wide format LED printer allows you to replace your own photo drum just like a desktop laser printer! Each Teriostar printer includes an extra process cartridge, so you can replace it without waiting for a service technician. No other company in the industry offers this option. This dramatically lowers their ownership costs, cost per-copy costs, and maximizes your uptime


Clean & Easy Toner Replacement
Using quality mono-magnetic toner, the LP-810 cartridge delivers high-quality prints with the best density. SIIT's magnetic toner system offers better image quality printers and is very easy to operate. Its unique "clean hands" toner refilling system allows you to slide back the cartridge opening and release the toner into the printer.
User Reference
Teriostar LED printers have been used in a wide range of applications in various industries throughout the world.
Companies using Teriostar LED printers include following;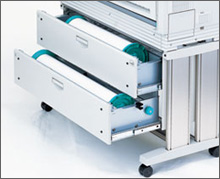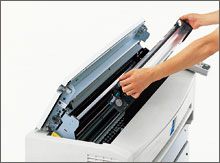 Construction,

SHIMIZU CORPORATION,

OBAYASHI CORPORATION
Automobile,

Isuzu Motors Limited
Electronics,

NEC Corporation,

SHARP Corporation,

FUJITSU GENERAL LIMITED
Other Industries,

Matsushita Electric Works, Ltd.,

Kubota Corporation. Engine Engineering Dept.

NTT FACILITIES, INC.